Buying Stylus Pen for iPad comes with exclusive features and designs that enhance efficiency in fulfilling tasks. Choosing a pen for a professional life requires having all the demandable features in one product. Unfortunately, there are rare products that are efficient in producing pens fulfilling all demands. Yet, this stylus pen is highly manufactured according to the needs and demands of people.
If you want all the latest features in one stylus pen for work life, you can choose a Stylus pen with palm rejection. This product is not only exclusive in its features, but it is also perfect in the durability of its pen. Therefore, prioritizing this stylus pen will improve your working experience in professional life.
In the fast-moving world, everyone loves to have such things that are innovative in their lifestyle. Likewise, you will gain all these desirable features in this stylus pen. More often than not, students can create their notes with effectiveness. Therefore, it will boost your creativity and speed up your work. Additionally, you will be able to complete the overall syllabus in no time. Therefore, having a stylus pen is a huge relief in your life by bringing flexibility to work.
JAMJAKE is highly focused on researching and developing stylus pens to provide the perfect features suitable to the users.
For further details, let's look at the reviews of stylus pens for iPad.
Exclusive features of Stylus Pen for iPad
1. Highly compatibility
First and foremost, the best thing to consider before buying a technical product is its compatibility feature. It helps you perform the same process on every model. The stylus pen is compatible in terms of offering the same services on the latest iPad models.
If you are fond of sketching and graphic designing, this stylus pen is a must-have for designing. Usually, people find this product perfect for practicing graphic design. If you are on the same note, it is highly recommended to you. Here is the best part! Other stylus pens come with six replacement tips to offer compatibility. Nevertheless, our recommended Stylus pen for iPad offers this feature on the latest models of iPad.
Stylus pen is compatible with following devices:
iPad 2022(10th gen)A2696/A2757/A2777
iPad 2021(9th gen) A2602 / A2604/ A2603/ A2605
iPad 2020(8th gen) A2270 / A2428 / A2429 / A2430
iPad 2019(7th gen) A2197 / A2198 / A2200
iPad 2018(6th gen) A1893 / A1954
iPad Air ( 3rd gen) A2152 / A2153 / A2154 / A2123
iPad Air ( 4th gen) A2324 / A2325 / A2072 / A2316
iPad Air ( 5th gen) A2588 / A2589 / A2591
iPad mini (5th gen) A2124 / A2125 / A2126 / A2133
iPad mini (6th gen)A2567/ A2568/ A2569
iPad Pro 11 inches (2018-2021) A1980/ A2013/ A1934/ A1979/ A2228/ A2068 / A2230 / A2231/ A2377/ A2459/ A2301/ A2460
iPad Pro 12.9 inches (2018-2022) A1876/ A2014/ A1895/A1983 / A2229/ A2069/ A2232/ A2233/ A2378/ A2461/ A2379/ A2462/A2436/A2764/A2437/A2766
Note: The version of iPad pro1st&2nd, iPad pro 10.5″, iPad pro9.7″, iPhone, Android, and Microsoft devices can not get support from stylus pens.
2. Firmness in grip
During adjustments, your hand will have a strong grip on the pen. It will not slip from your hands while disturbing the graphic dimensions. The material covering the external body of the stylus pen is exclusively created to provide firmness in grip. It means that you will entirely have a command of your work. The Stylus pen with Palm rejection will work absolutely under your control, whether it is about writing, drawing, and painting.
3. Tip smoothness
Using a stylus pen for writing on an iPad note will give you a soothing user experience. When you write on the notes, you will notice that it is producing whatever you command through hand movements.
Its tip will often not produce any unusual marks on your notepad like other ordinary pens. Before buying any stylus pen, you should remember to choose a pen having a rigid tip. Therefore, you will never be afraid of losing your pen tip by using this Stylus pen for iPad. In regard to using the tip, you should follow the manual instructions in terms of tip sensitivity.
4. Uncomplicated scrolling
On a boring day, you want something special to offer comfort to your soul. Likewise, using a stylus pen for scrolling social media apps or slides is more convenient than using fingers. Using a stylus pen will surely build up interest in completing your task. Therefore, you can make your day productive by utilizing the features of the stylus pen. The smooth operation on your iPad will surely give you a better user experience. After a whole busy day, you can give some time to your studies by scrolling academic slides with a stylus pen.
5. Numerous variety of functions
Whenever you purchase a stylus pen, the first thing that comes to your mind is your touchscreen. You might be worried about using a stylus hurting the iPad'siPad's screen pen. But, this stylus pen is exclusively built up with a soft tip for a smooth writing experience.
It will protect your touchscreen from any harm. More often than not, this Stylus pen for iPad will produce various functions in designing your project with your creative mindset. Therefore, you can stay tension-free in using it on your screen.
6. Active operations
The sensor is installed inside your touchscreen that instantly detects the presence of stylus pen usage. If the stylus pen is not created for a certain generation of iPad, the iPad will not respond to its operation. Therefore, you should buy the stylus pen that offers the exact features on your iPad too. Moreover, you can add additional capabilities by changing settings. The stylus pen will only respond on your iPad by changing the settings of accessibility. The presence of digitizing technology will respond to the way you have changed the settings of accessibility.
7. Ideal to use
Removing its cap is the best way to connect your stylus pen to your iPad; connect it to the ipad's lighting port. Click on the pairing button to enjoy the functions of the stylus pen. The stylus pen will remain connected to your screen until the iPad reboots. It has a smart touch switch to turn it ON and OFF.
Stylus pen with palm rejection will boost your hidden skills to get perfect with the practice. If you are on a journey to self-actualization, this product will help you find your satisfaction from a particular skill. Using it for multi-purposes like writing and drawing or creating power points will surely help you find the best core competencies in your expertise list.
8. Cost Effective
Comparing it with other pens, it offers high quality and durability in the product life cycle at an affordable price. Other pens might be offering quality but reasonable amounts. If you choose a Stylus pen with palm rejection, you will receive every updated feature providing convenient usage within your budget. Therefore, prioritizing functional activities for professional life, this stylus pen is a perfect purchase for you. The best Stylus pen offering all the latest features and functions can always be affordable. But if you compare our recommended stylus pen with others, it is offering the lowest price for an exclusive product.
9. High level of comfort
Every person's comfort level is different regarding stylus pen grip. But the reason for buying a stylus pen is almost the same. You want to bring innovation and flexibility to your workstation. It can come into existence through choosing a product that gives you a firm grip while using it for a project. Therefore, this stylus pen will provide you with the best comfort level to help you bring innovative strategies in designing your project. In addition, it will boost your speed level in completing the task.
10. Resistance
Choosing this Stylus pen with palm rejection will keep a perfect friction level between the nib and touchscreen. However, a sticky nib will never help you control the dimensions of the design. In addition to it, having a sticky nib can cause you to add more firmness to the pen to produce the right amount of work. As a result, it will irritate you by making unusual marks on the screen. Additionally, you will not love doing work through a pen with a sticky nib. Luckily, our recommended product keeps a balance in resistance to give a better user experience.
11. Balance and weight
Evenly production of stylus pen weight all over the screen offers a smooth result in usage. However, having a pen with more weight than the screen can damage the external screen of an iPad. It can also irritate holding and controlling the functions of a pen.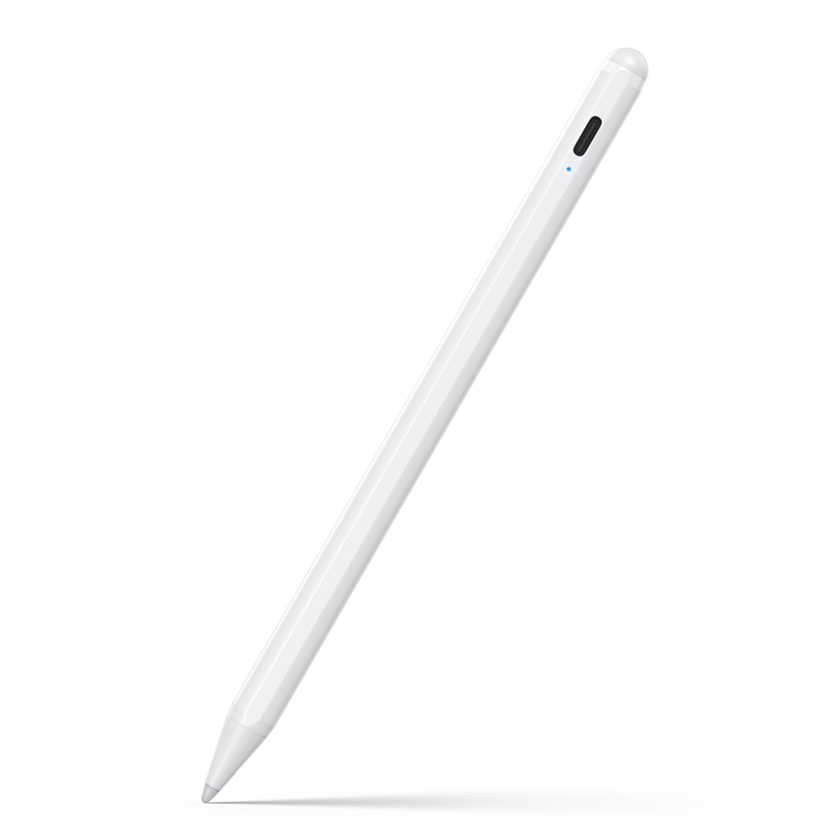 Therefore, a stylus pen should support the weight of the screen to give overall tasks at the right time. Likewise, weight is equally important to the functional properties of the stylus pen. A stylus with heavy weight can produce a cramp on your hand. That is obviously not good for your health. Therefore, choosing this Stylus pen with palm rejection will protect you from problematic issues.
12. Precision
On your journey to writing, you always will have no overlapping letters and unusual vertical spacing. Such issues will not come your way using Stylus pen for iPad. While drawing on the screen, the stylus pen will ink on the exact line with preciseness. The stylus tip will not produce unusually noticeable lag. That is why it should be your first choice while producing unique designs for graphics. Using this stylus pen will produce a clean design result. The precision of this product will help graphic designers or writers to bring something innovative yet chic to the table.
13. Pressure sensitivity
Only some stylus pens are highly responsive to pressure sensitivity. The reason is that they are not created for multitasking jobs. Fortunately, this Stylus pen for iPad instantly responds to pressure sensitivity. So whenever you begin to write or draw something on the iPad, it will smoothly react to your pressure. Moreover, you can connect your stylus pen to adobe photoshop and illustrator to enjoy endless drawing and painting.
Guidelines to connect Stylus Pen
1. Head towards settings
Browse the apple settings to connect your stylus pen. If you want to use GoodNotes, it will only support apple pencil for editing. Therefore, click on the settings icon and connect the stylus pen to the ipad'sipad's screen. The entire process will only take you less than five minutes. The settings icon is officially present on the homepage of the iPad. You can choose it from the homepage for fast connectivity.
2. Single finger panning
Allow one finger to scroll through changing settings for connectivity. When you connect your stylus pen to the iPad, you can still use one finger for scrolling functions. Turning on the Single finger panning will still give you access to using the touchscreen. If you turn off this option, it will mean that you will use two-finger scrolling to write and design on the screen.
3. Palm rejection sensitivity
Stylus pen is easy to turn on and off from the top. Turn the Stylus pen medium, low, or high, depending on your choice. If you are willing to use GoodNotes on iPad, turn the Stylus pen ON. It is more convenient to use iPad with glass protector for your device safety.
4. Writing posture
Choose a proper writing posture for sustainable results of writing. You can choose this option through the settings of the stylus pen. After the selection of posture, the resultant will produce an accurate representation of your writing. Therefore, it will not require you to perform the same writing in a neat form. Because the presentation done roughly will produce a neat result on the screen. Hence, no need for repetition of work. In addition to it, this feature will help apple'sapple's palm rejection to work properly.
Last Word
Salute yourself on the completion of the entire topic. We have explained every detail regarding reviews of exclusive Stylus Pen for iPad with Palm Rejection. You can learn and implement every single step in connectivity. Whenever you desire to buy a stylus pen, you need clarification about choosing one product from various options. Now, it has become easy for you to choose a stylus pen by overviewing the entire details of the latest features of a stylus pen.
Our recommended Stylus pen for iPad will help you perform your tasks with all its exceptional features. If you want to choose on your own, you can compare any other product with this stylus pen. After comparison, you will surely prioritize the Stylus pen with palm rejection over other products.
After the purchase, you will be proficient in using all the features while using a stylus pen. We will love to hear your experience or stories of using it. Please share it in the comment section below. It helps the community to learn from your experiences. Our team will also look after your reviews for guiding you effectively. If you want to ask something related to the stylus pen, you can send an email to the given address.
Whenever you begin to work, the stylus pen will keep you dedicated to completing daily tasks. Writing on an iPad with a stylus pen gives an innovation to keep your presentation skills polished with the completion of projects. Therefore, buying a stylus pen will not only provide you with innovative learning, but it will also be helpful to boost your presentation or graphic designing skills.
If you try to connect it with these versions, the stylus pen will not work over it. Purchasing a stylus pen from Jamjake store will give you quality and the best user experience in the long run.
Until next time, have a peaceful writing day!
FAQs
Q: Can I rest my palm on the iPad while writing?
Yes, you can surely rest your palm while writing due to the availability of palm rejection. Apple has a sensor in the form of palm rejection that detects hand movement for writing. So, nothing will automatically be written on the screen whenever you rest your palm. Therefore, you can effortlessly use a stylus pen for your iPad. Pencil strokes are still under the sensor of the apple system. So, you can work on a project without worrying about an error in your writing project.
Q: Does the stylus pen have palm rejection?
The stylus pen is created with palm rejection. The reason is that it helps to sensor the movement of hands using a pen. Palm rejection supports the stylus pen to provide 100% work with accuracy. If your pen tip gets worn out, you can replace it effortlessly without damaging the quality of the stylus pen. It is easy to function properly because of its lightweight. Now, you can optimize the quality of your work through a stylus pen without getting tired.
Q: Should palm rejection sensitivity be high or low?
The sensitivity level depends on the application'sapplication's usage on your iPad. If you are willing to use GoodNotes, then you should keep the sensitivity off. GoodNotes have an excellent palm rejection that does not require extra sensitivity. Besides this app, the palm rejection should be on a medium level. If you turn on single-finger panning, the medium will be the best choice for a smooth process. Keeping the palm rejection sensitivity low will slow down the writing process.
Q: How do you write with your hands on the iPad?
You can utilize your time by having a strong grip on a stylus pen for writing. You can create a splendid sketch and paint by using a stylus pen. Connecting the stylus pen with the iPad will begin the process of writing. Its soft tip will help you maintain the resistance between the pen tip and screen while writing for projects. While performing writing on iPad notes, you can choose margin tools and colors of your choice.
Q: Can I use the stylus on a non-touch screen?
You will receive no results on using a stylus pen on a non-touch screen. It will not respond to your hand movements with a stylus. The reason is that they are created with a specific technology. You cannot use a stylus pen if a certain smart device does not have that technology embedded in it. Therefore, buy an iPad for using a stylus pen because it will only work for Apple'sApple's smart devices.
Q: Why won't my iPad let me write with my finger?
The reason is that you have enabled the option of only using a stylus pen for writing. You can scroll your iPad with your finger by changing the settings of the stylus pen. After turning that option off, you can utilize your finger in drawing on apple notes by using different colors and margins. In addition to it, you can also enable single-finger panning for accessibility.